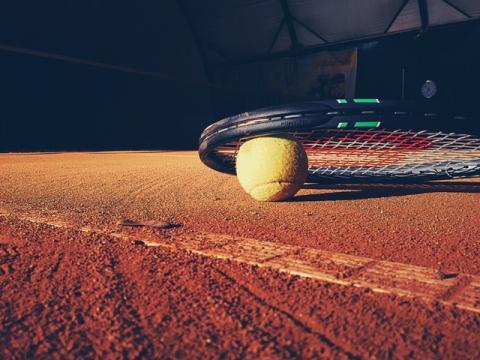 Many people are outstanding athletes in their twenties and then lack the competitive fire in their forties. They have ceased competitive accolades and put on more weight as a result of inactivity. Fizzle…and Float!
As a forty-five year old, I easily weigh 30 pounds more than I did during my most competitive tennis days, 25 years ago. I have relegated myself to coach potato status, after having formerly played amongst the Top-5 varsity tennis players at NCAA Division I, University of San Francisco. This weight gain is due to many factors: I have not been training hard like when I was a young man, my metabolism has slowed down so I am not burning calories at virtually the speed of intake any more, and I'll now stow away no more than a couple cold ones a week— that simply settle in without evaporating of their own accord!
Presently, I'll shag tennis balls two or three times a week, usually playing a couple of sets of doubles on each occasion. Going through the motions may help me reminisce about my once slightly legendary status.  But that simply is not enough to maintain an ideal weight. Eating reasonable portions of predominantly healthy food is another component to shedding the hibernational "snugglies."
Yet, it is still possible to get into prime shape and become an unrestrained jock during a mid-life crisis. Roger Federer and Serena Williams have proven over their prolific careers that they are two of the greatest male and female tennis players of all time, respectively. They have each won about 20 Grand Slams— more major singles titles than anyone in this era.
Now, in their mid-thirties, they are such excellent physical specimens and fiery competitors that they are still ranked amongst the world's very best players, even though they are past their hey days by 10-15 years. Serena just reached the Final of the 2016 French Open. She came in 2nd place out of well over 100 competitors, barely losing 6-4, 6-4— even though the fast grass surface at upcoming Wimbledon, not the French Open's slower clay arena is her finest stomping ground. In 2015, Serena won Wimbledon, the French Open, and the Australian Open.
Today, Serena is still the #1 ranked woman in professional tennis even though she won her first Grand Slam last millennium! She is considered to be the best woman player to ever grace the court. Serena's most powerful serve, bunker-infiltrating groundstrokes, and untarnished grit are masterful works of art.
Similarly, Roger Federer has been ranked #2 in the world throughout the bulk of 2015-2016, decades after he has proven himself the best and most versatile male tennis player of all time. An impeccable and seemingly effortless blend of power and finesse… New York Times Best Selling Novelist David Foster Wallace (Infinite Jest) wrote in the New Yorker, "Watching Roger Federer play tennis is like a religious experience."
If these two phenomenal old-timers can still stay on top of the heap now, I can at least, reduce my own heap!
I am only half of a generation older than these state-of-the-art, yet aged superstars. All professional tennis players must practice their games plus cross-train like crazy for optimum endurance, speed, and power. If in addition to playing casual doubles two or three times a week, I also jog 2-3 miles, twice a week on dirt trails or rubber tracks (to prevent knee cartilage shocking), I could go a long way towards regaining my former jock's physique. I could even run at the crack of dawn as a routine to meet the day, before meditation, shower, and coffee to replenish the mild exhaustion from the early running. Jogging would definitely eviscerate calories, not to mention speed up my metabolism and jump-start a promising gateway to the day's rewards.
In addition to jogging, a couple of times a week I could go on nature hikes or city walks early in the morning for the same distance. I could then do several hours of work and play tennis for my late afternoon workout. Once a week, I could augment my increased cardio with isometric toning: gentle stretching, push-ups, crunches, and shoulder swirls.
Does not this sound like an improved fitness plan for older, ounce-accumulators to once again re-formulate ourselves as bonafide, unrestrained jocks? Who knows, I might even wistfully enter a tennis tournament to joust with upcoming legions of surging millennials!
The bottom line is the game is still there and our bodies are still able - we just have to train like we did in our 20's and 30's to play like we did in our 20's and 30's!