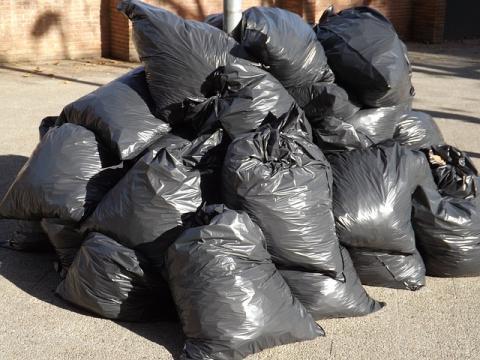 Millions of households struggle daily to get enough to eat, while millions of tons of food waste are generated annually by commercial food manufacturers, restaurants, food wholesalers and grocers.
Most wasted food gets buried in landfills, although a small amount is turned into compost, according to a 2014 report analyzing U.S. food waste among surveyed food manufacturers, restaurants, food wholesalers and retailers.
The report indicates only a comparatively meager amount of otherwise wasted food is ever donated to food banks, soup kitchens or shelters for the homeless. Restaurants, wholesale and retail food distributors waste the most food, compared to food manufacturers.
Federal tax deductions for businesses that donate food benefit Corporate America's bottom lines and donation announcements made by public relations departments may seem impressive; nevertheless, overall donations still represent only a tiny portion of the food diverted from mountains of wasted food.
Giant Food Stores reported it donated enough food for 2.9 million meals in 2015.  Stop & Shop said it donated enough food for 4.5 million meals and Walmart reported it donated 600 million pounds of food to organizations that distributed it to people in need in 2015.
Food waste statistics are sobering compared to actual food donations. Roughly 80 billion tons of food is wasted annually in the U.S., representing more than 250 pounds of food for every man, woman and child.
Fifteen food manufacturers surveyed for the report generate 7.1 billion pounds of wasted food annually. Food manufacturers surveyed donate only about 1.6% of food that would otherwise be wasted, while "recycling" 93.4% which generally means re-purposing it for sale as animal feed.
Surveyed food wholesalers and retailers donated 13.2% of the food that otherwise would be included with the 1.4 billion pounds of food waste they generate annually. The report noted that all but one of 74 food retailers surveyed supported local food banks.
Among restaurant companies surveyed, only 1.4% of otherwise wasted food was donated. Statistics from more than one study referenced in the report varied widely, ranging from 22% to 73% of restaurants surveyed making donations to food banks and other organizations helping the needy.
The reasons for the appallingly low food donations cited the most often by companies surveyed were transportation constraints and insufficient food storage and refrigeration facilities.  Meanwhile, dumped and rotting wasted food contributes to the release of methane gas, contributing to climate change, while many people cannot get enough nourishing food.
If ever there was a need for real disruption—rather than simply mouthing the latest marketing-speak buzzword—reducing the enormous amount of food wasted is it. Though in fairness to businesses, American consumers collectively contribute even more wasted food at home.
What do you think should be done to solve this dilemma of hungry people and businesses wasting so much needed food?