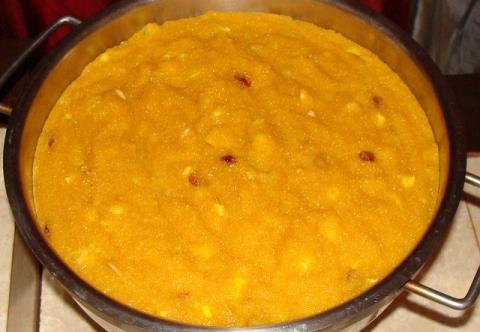 A delicious dessert and also an age-old cough-and-cold remedy, Besan Sheera is super easy to make and great to eat…
There are plenty Ayurvedic secrets (all vegetarian) that India holds. One of them is the very easy-to-make Besan Sheera. Besan is nothing fancier than gram or chickpea flour; if you've been reading articles at Basmati regularly, by now you know that the leftover besan can also be used to make fritters or even to boost your DIY beauty routine. Sheera simply means syrup. Put together, this recipe is a sweet, syrupy concoction of gram flour, milk, sugar and ghee along with aromatic spices or nuts to your liking.
Made at its simplest, without the spices, it's also great baby food – and something Indian mothers have been spooning into their cough-wracked or simply otherwise hungry children for centuries. A great way to warm your insides -- be you healthy or a little under the weather – besan sheera is basically scrumptious in any way and form.
What you need:
½cup besan (gram or chickpea flour)
3 tbsp ghee (clarified butter)
3 tbsp sugar, honey, or molasses (or more to taste)
1½ cup milk (for dry cough) or water (for cough and congestion)
Aromatic spices to your liking…
A handful of nuts and seeds (if being eaten as a dessert)
To make the sheera:
1.Dry roast and powder any aromatic spices (cardamom, cinnamon, star anise, peppercorns) you wish to use – keep them aside.
2.Dry roast the besan in the same pan till it changes color and smells a bit nutty. Should take about 10 minutes on low to medium flame.
3.Add the ghee and mix well, stir-roasting till a roux is formed and then add in the powdered aromatic spices. Should take about 5-7 minutes on low flame.
4.Now slowly add water or milk, stirring to ensure no lumps. Start by adding only half of the liquid and make sure you add the same depending on the consistency of your liking. Some like to make it thicker, like a halwa, while others like a more drinkable consistency – which is the sheera. Keep stirring -- the concoction will now bubble a bit so remember to keep the heat on low.
5.Add the sweetener according to your taste – add a little at first – making sure the sheera doesn't become too sweet. You can also use brown sugar, honey, or molasses if that's the sweetener you prefer. Mix well to ensure it all dissolves; and then let it cook on low for about 5 minutes.
6.Finally, you can sprinkle over a few nuts, raisins or seeds in case you are making this more as a dessert and less as a cough-and-cold remedy.
Serve it hot, in glasses or mugs for the sheera, and in lovely little ramekins if serving up as a thicker halwa. Your palate and throat will thank you for this.
Have any feedback for us? Please do jot down your thoughts in the comment section below. Hope you enjoy your version of the besan sheera, or halwa!